Audiences seem hungry for content about Orthodox Jews. Unorthodox was a runaway success. My Unorthodox Life milks Julia Haart's story of leaving Haredi life in Monsey. A new horror movie mines Hasidic spirituality for demonic terrors.
People are, of course, curious about the men who dress like they live in a different century strolling down New York City streets. But these stories give a limited picture, feeding the audience's prurient — and profitable — fascination by focusing on the underbelly of Hasidic life. Lurid marketing amps up the drama, like Netflix's description of the documentary One of Us, about three men who "face ostracism, anxiety and danger as they attempt to leave their ultra-Orthodox community."
On its surface, Where Life Begins, a French film from director Stéphane Freiss screening at the New York Jewish Film Festival, seems like another entry in the canon of dramatic Hasidic escape stories.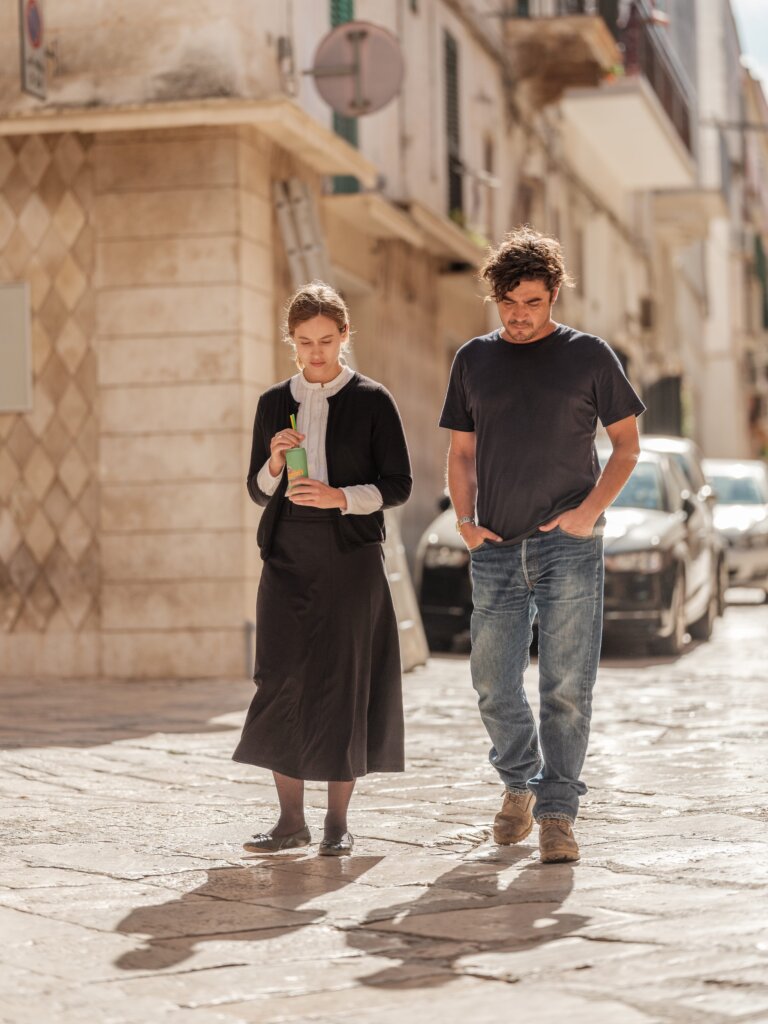 Esther and Elio walk through the local village, exchanging long, meaningful glances. Photo by Menemsha Films
Set at an Italian etrog farm, where they grow the ridged, yellow citrus essential to Sukkot, the film focuses on the intimate, but unspoken, relationship between Elio, the (non-Jewish) owner of the farm, and Esther, the daughter of a French rabbi whose family comes to the farm each year to inspect and package the holy fruit. 
Esther, played by a solemn Lou de Laâge, grates against Hasidic rules, sneaking away on forbidden walks and car rides with Elio and hiding in his house to use the internet. Her parents are trying to arrange a marriage, which she doesn't want, and, at one point, the women in the family study Judaism's strict menstrual laws, one of the more off-putting Orthodox practices for a modern audience. In a melodramatic letter to her rabbi father, Esther tells him she wants to leave: "Your world is in black and white. Today mine is in color."
But the details of the movie soften the expected story. There are scenes of joy: the family working together in the etrog orchard, celebratory meals, mothers praying with their children, men dancing and singing. There's a palpable holiness to the pastoral shots of the Italian countryside. Even Esther, as she rages against Judaism, does so from inside it. "Give me the strength to leave you and I will forget you without resentment," she begs a God she clearly still believes in.
And Elio, ostensibly the symbol of the outside world for Esther, seems to have a deep respect for Judaism. He enables and even encourages Esther's rule-breaking, but is also genuinely fond of her father and family. At one point, he folds a makeshift kippah from paper for a child who lost his. And though his farm is struggling, Elio refuses to graft his trees for a bigger, more profitable harvest; to do so would make them non-kosher.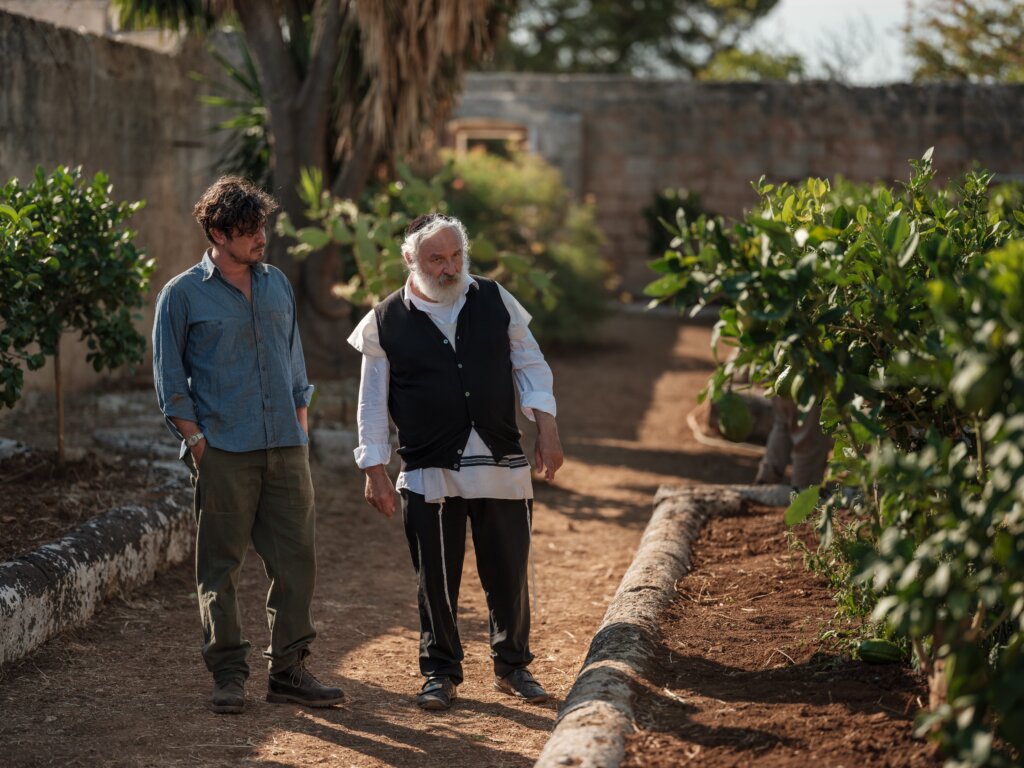 Elio and Esther's father, the rabbi, examine the etrog harvest. Photo by Menemsha Films
Elio, too, is embedded in tradition: Etrogs, after all, are inedible, useless except for Judaism. They're a fitting crop for Elio, who inherited the farm from his father, leaving a cosmopolitan life — and his ex-wife and children — in Rome to take up the family business, which he both loves and resents. Where Life Begins executes a delicate dance, acknowledging the limits of tradition while also allowing for its beauty. 
This delicacy makes Where Life Begins feel like a standout among contemporary portrayals of Hasidism. But it's in line with a much older film. Remastered for its 25th anniversary, and also screening at the festival, A Life Apart opens with an almost glowing portrayal of Hasidism in America. Filmmakers Menachem Daum and Oren Rudavsky got incredible access into the usually cloistered world, allowing for intimate shots of Hasidic life, all teeming with warmth and festivity: huge gatherings of men singing with their rebbe, the celebration of a Hasidic boy's first haircut, Shabbat blessings over candles, a child learning the Hebrew alphabet.
Going over the history of Hasidism, narrators Leonard Nimoy and Sarah Jessica Parker explain that it was a "spiritual revival movement which emphasized prayer, joy and charity." In numerous interviews, people talk about how lucky they feel to be Hasidic, and how sorry they feel for secular people, who miss out on so much value and meaning. 
"It's emotional, it's holy, it's beyond words," one man says of his religious practice.
A Life Apart doesn't shy away from the very real limits of Hasidism entirely. Here, too, there's a woman who left Hasidic life, as well as academics discussing sexism within the Hasidic world and a Hasidic school's principal openly talking about censoring books.
It's hard to gild these elements of the Hasidic life, and A Life Apart makes no attempt to. But unlike so much of what came later, its vibrant and affectionate shots of daily life movingly convey what it's difficult to express in words: That, hard as it is to understand, Hasidism's rigid rules and harsh limits can also forge love and contentment and transcendence.
So, too, in Where Life Begins, you can't help but feel the sanctity of Hasidic life when it's set against lingering shots of the stunning Italian countryside. Even moments that might otherwise feel dark — Esther balling up her firsts in fury or running desperately through a field — are softened by the sounds of chirping birds and rustling leaves and cows mooing softly. 
Just like Hasidism, the film operates beyond logic; you have to simply feel the beauty — of the land, of the tradition, of the religion. It's impossible to miss.
The post On screen, the beauty of Hasidic life transcends a cloistered world's restrictions appeared first on The Forward.