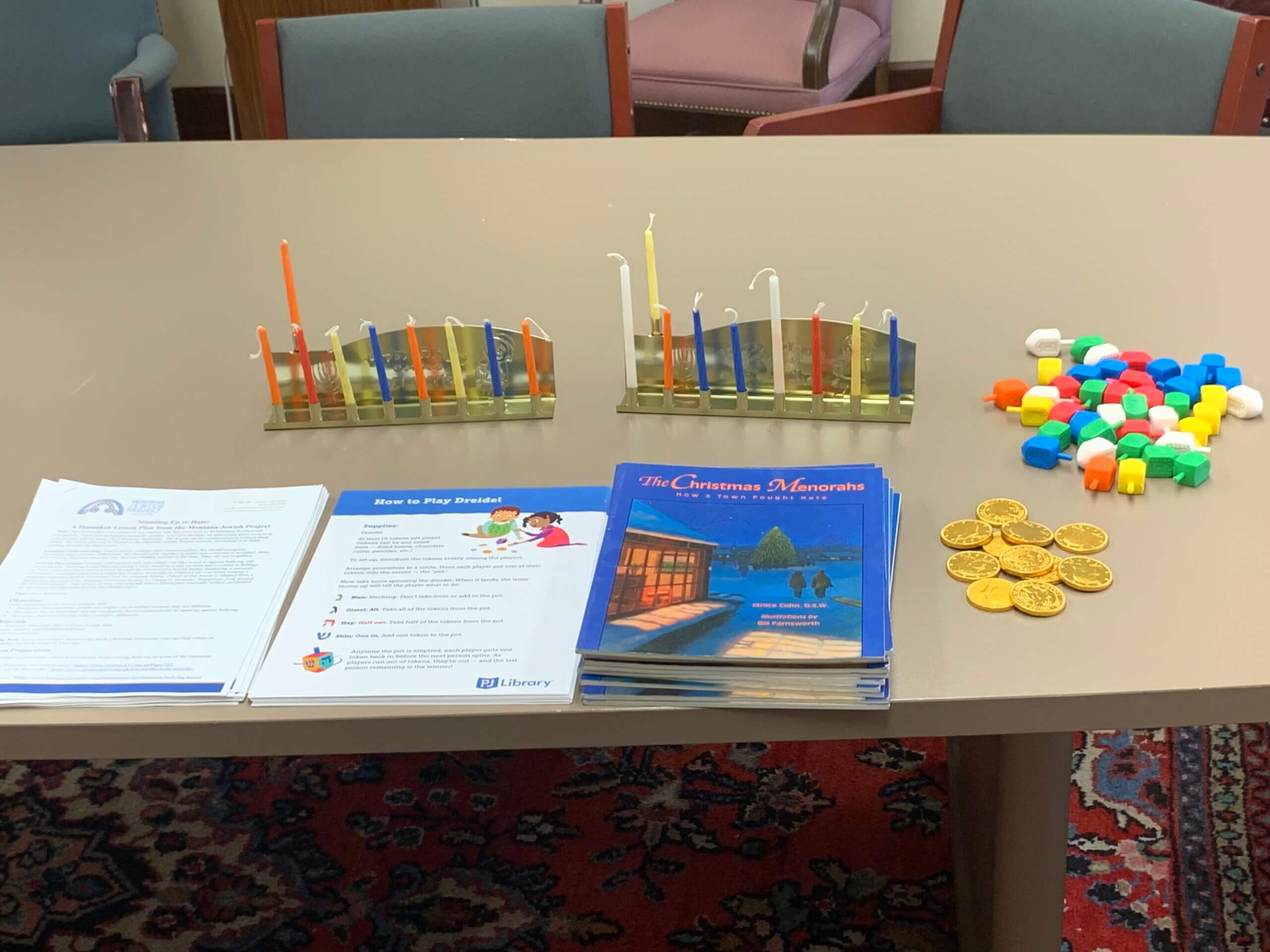 Montana has among the fewest Jews — and the most hate groups — per capita of any state. Hanukkah, a group of Montana Jews decided, presents an opportunity to  combat bigotry in general and antisemitism in particular. Their target audience: school kids.
The Jewish group, an all-volunteer force working out of the Montana Jewish Project, the initiative that earlier this year reclaimed a once-active synagogue and made it into the state's only Jewish center, is stocking Hanukkah kits with books, dreidels, chocolate gelt and lesson plans on tolerance.
Forty have been distributed so far — for free — to Montana teachers who have requested them. It was inspired, said Rebecca Stanfel, president of the Montana Jewish Project's board, by members' experiences as a tiny minority in the state. There are an estimated 1,500 to 5,000 Jews in Montana, out of a total population of about a million.
"A lot of us have had kids that have gone through public schools in Montana, and have not always had the best experiences being the only Jewish kid in our school or the Jewish kid in our classroom," Stanfel said.
The boxes come with a lesson plan that asks students to reflect on how they would feel if someone were to make fun of their race, religion or family and discuss the best methods to help a victim of bullying.
Students also read The Christmas Menorahs: How a Town Fought Hate, a short book by Janice Cohn that describes the true story of how a community in Billings, Montana, stood together when neo-Nazis smashed the windows of Jewish homes on Hanukkah in the 1990s.
"The entire city of Billings rallied around the community," said Stanfel. "The newspaper printed color menorahs and the whole town cut them out and put them in their windows.
"Our goal was to use this story as a lens to think about classmates or peers and how they think about acceptance."
Montana has made more national headlines for antisemitism in recent years.
Prominent white supremacist Richard Spencer has made a home in the town of Whitefish, where he directed a hate campaign starting in 2016 against a local Jewish realtor. (A recent report indicated that Spencer has become a pariah in the town).
In March, antisemitic and transphobic flyers were distributed in a residential part of Great Falls, while in November, students at a Billings school were sent home after a threat that included a swastika was discovered in a bathroom.
Many Montanans have never interacted with a Jewish person, and until the Montana Jewish Project raised funds to reclaim Temple Emanu-El in Helena this year, Montana was one of only four states whose capital cities lacked a synagogue or Jewish center.
Kimberly Winkowitsch, who teaches in a small colony of Hutterites, a sect of Anabaptists, who live near the Canadian border, read about the Montana Jewish Project's curriculum kits in a Montana Historical Society newsletter. She reached out to obtain one for her students, kindergarteners through eighth graders, who meet in a one-room schoolhouse.
She said she's using the kit to expose them to aspects of the world they've never encountered. And while she hasn't introduced the dreidel to the classroom yet, she said her pupils have been taking the lesson of The Christmas Menorahs to heart.
"They're Christian students, so they have Christian beliefs and they're thinking the Christian way," she said. "So they get a little bit of exposure to Hanukkah to understand what that means."
Stanfel said the kits' creators have been gratified by teachers' responses.
"The feedback we've gotten, it's just really awesome," she said. "They're just being grateful and saying we really want to teach diversity. We really want to work on this."
The post In a state with few Jews, free 'Hanukkah kits' aim to combat antisemitism appeared first on The Forward.