Fast living and foreign dealings: An FBI spy hunter's rise and fall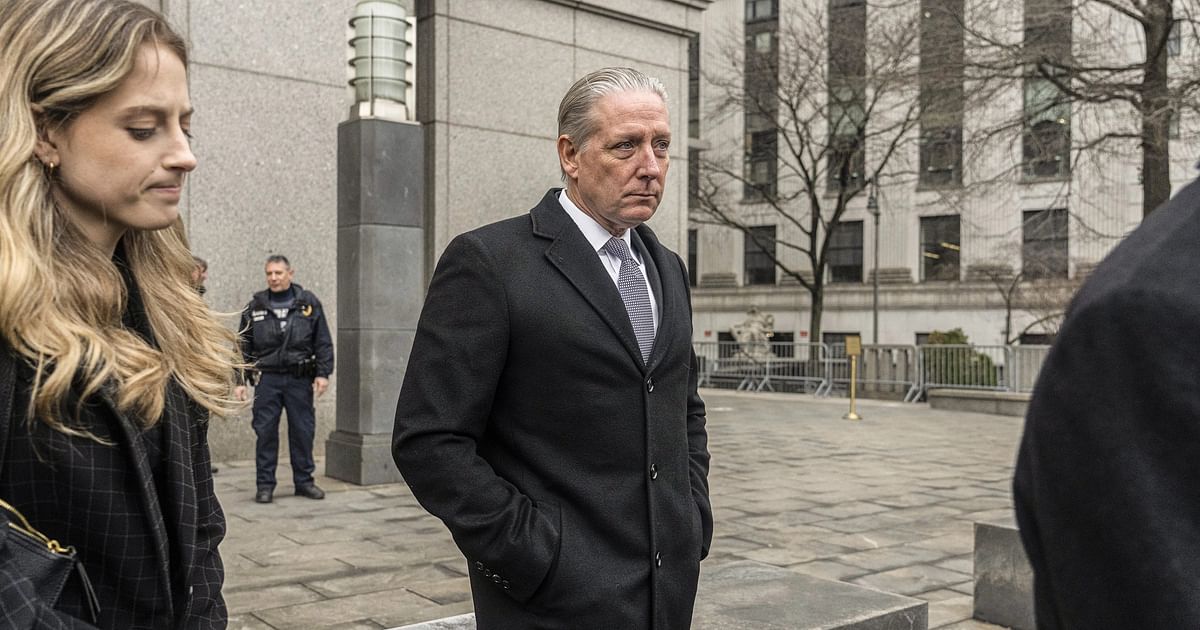 By the time he reached middle age, Charlie McGonigal was living a comfortable suburban life.
He had married and raised two children in a tidy Maryland neighborhood near the Capital Beltway. He coached his co-workers on an office softball team and went to church on Sundays. In his den, he hung posters celebrating sports teams from his native Ohio; in his home office, a sign above a doorway announced in flowing script his devotion to his job.
"I want to thank the Good Lord," it read, "for making me a FBI Agent."
But Charles Franklin McGonigal was no ordinary agent. As the chief of counterintelligence for the FBI in New York, he was tasked with rooting out foreign efforts to steal vital national security and economic secrets in one of the world's most fertile cities for spying.
Apart from his outward image as a wholesome and responsible G-man, however, there was another, less visible side to McGonigal, federal prosecutors and his former colleagues say. He held off-the-books meetings with foreign politicians and businesspeople and accepted illicit payments while doing favors for associates, according to federal indictments filed against him in two states earlier this year.
McGonigal's arrest, in part based on accusations that he had worked for a Russian oligarch, came at a time when US -Russia relations had reached their lowest point since the Cold War, leading to questions about whether one of the country's most trusted spy hunters had become a spy himself. But a close look at McGonigal's life and career reveals an arc that appears to have little or nothing to do with espionage and international intrigue. Instead, it seems to be a quintessentially American story about greed.
Smooth and politic while navigating an upward trajectory through the FBI's bureaucracy, he was a different man with subordinates, flashing his temper at the smallest provocation, former associates say. An expert in Russian counterintelligence, he spoke publicly of international security threats. At the same time, prosecutors say, he was privately courting the oligarch, Oleg V. Deripaska, who figured prominently in the investigation by the special counsel, Robert Mueller, into Russian meddling in the 2016 US presidential election.
Now, McGonigal, 55, appears set to become one of the highest-ranking FBI agents ever to be convicted of a crime. He is scheduled to appear in federal court in New York on Tuesday for a possible guilty plea in the case involving Deripaska, and is in talks to resolve an indictment brought by federal prosecutors in Washington. Until any deal is finalized, it could still fall apart, and McGonigal, who has so far pleaded not guilty, could go to trial.
The case has raised unsettling questions about the FBI's ability to detect corruption within its ranks. Prosecutors suggested that McGonigal traveled extensively while at the bureau, meeting with foreign officials and businesspeople who, on the surface, had nothing to do with his job. Agents are required to report such contacts and certain financial transactions and to take lie-detector tests, but the bureau relies heavily on the integrity of the people it has placed in positions of trust.
Over more than three years, the investigation has so far produced no evidence that McGonigal provided national security secrets to the Russians or to anyone else, according to US officials who requested anonymity to discuss ongoing cases. Although the officials said McGonigal appears to have been engaged in simple graft, his actions stunned many in the FBI, where a core tenet is drilled into every agent: "Never embarrass the bureau."
FBI Director Christopher A. Wray said the charges demonstrated "the FBI's willingness as an organization to shine a bright light on conduct that is totally unacceptable, including when it happens from one of our own people, and to hold those people accountable."
Peter J. Lapp, a former FBI agent who once worked for McGonigal, said that the openness with which he seems to have crossed legal lines — "doing it right in front of everyone" — took audacity. But the charges did not explain what he called "the great mystery."
"Why did he need so much money?"
While investigators have described brazen attempts to profit from his FBI career, the actual crimes McGonigal is charged with are technical. Between the two indictments, he is accused of concealing details of his finances and activities overseas, violating US sanctions and laundering money. Some charges carry potential prison sentences of up to 20 years, but a judge could impose far less.
Seth D. DuCharme, McGonigal's lawyer, said at a recent hearing in New York that the indictment was more dramatic than the case actually seemed to be.
"Every time I hear the government describe this as a small white-collar case, I feel a little more comforted," he said.
And the Washington prosecution, DuCharme has said, is basically "about some omissions on government forms."
What most shocked former colleagues was McGonigal's boldness. He had behaved in ways that he most likely knew would get him caught. In 2020, two years after his retirement, he spoke on a panel about the corruption of the Federal Security Service, or FSB, Russia's counterpart to the FBI, including its agents' participation in money laundering and acting as "private contractors" for businesspeople and criminals.
"It has really become an organization that is rogue, in my opinion, and is at the behest of those who can pay for the services they offer," he said.
By then, prosecutors said, McGonigal had already accepted cash from a former Albanian intelligence officer — and had begun working with Deripaska.
In the Cleveland suburbs where he grew up, one of four siblings in a family of modest means, McGonigal went by "Chuck," studied martial arts and liked to drive fast cars and party on weekends, according to his high school yearbook.
After graduating from Kent State University, and working briefly for the National Bank of Canada in New York City, McGonigal joined the FBI. Assigned to investigations into the crash of TWA Flight 800 off Long Island and the 9/11 attacks, he gradually climbed the ranks, eventually supervising a counterespionage squad at the agency's Washington field office. He was aided by a gift for "briefing up" — impressing superiors with analysis and presentations.
"He was a very hardworking, intelligent, nice guy — always, 'Yes, sir. No, sir,'" said another colleague, Clayt Lemme, who worked as special agent in charge of counterintelligence, two levels above McGonigal, at the FBI's Washington field office.
He revealed a less polished side, though, when underlings displeased him, erupting in tirades while spraying spit. Lapp, his former employee, said it became a running joke: Offending agents got a second shower — "the McGonigal hot wash" — when he yelled at them.
McGonigal and his wife, Pamela, who had been a year behind him at Kent State, bought a red brick rambler in hilly North Chevy Chase, Maryland, where they raised their son and daughter.
He joined Shrine of the Most Blessed Sacrament, a nearby Catholic church. He registered to vote as a Republican and coached the Washington field office's softball squad. His den became a man cave, its walls covered in posters paying homage to the Ohio State Buckeyes, the Cleveland Browns and other teams.
Although McGonigal took pride in his home state, he also played down his humble roots, leaving Kent State off his official bio and accentuating the graduate degree he later earned at Johns Hopkins University.
All the while, he had access to some of the FBI's most sensitive and important information, even helping to lead the investigation in 2012 into the compromise of CIA informants in China.
By early 2016, McGonigal was running the bureau's Cyber-Counterintelligence Coordination Section in Washington, where agents analyzed Russian and Chinese hacking and other foreign intelligence activities.
In that senior position, McGonigal became aware of the initial criminal referral that led to the investigation known as Crossfire Hurricane — an inquiry into whether Donald Trump's presidential campaign and associates were coordinating with Russia.
That October, then-Director James Comey appointed McGonigal special agent in charge of counterintelligence in New York, overseeing hundreds of agents and support staff. It was a return to where McGonigal had gotten his start, but in a vastly more important role.
The job would be the culmination of McGonigal's law enforcement career.
"If you want to learn and work counterintelligence, New York City is the preeminent field office," McGonigal told a gathering at the Foreign Policy Association seven months after his appointment, adding that audience members who traveled overseas should expect to be under surveillance by foreign intelligence agencies.
Despite urging caution, it seems that McGonigal had already thrown it aside in his own life.
He had left his family in Maryland, and, soon after moving to New York, begun an affair with a woman who socialized in law enforcement circles.
McGonigal met the woman, Allison Guerriero, 49, of Florham Park, New Jersey, through her work volunteering at a nonprofit organization called the Federal Enforcement Homeland Security Foundation, which says it raises money for the families of federal agents injured or killed in the line of duty — in part by hosting galas and golf outings with celebrities such as Law & Order creator Dick Wolf and actor Stephen Baldwin.
Guerriero, who has been publicly critical of McGonigal since his arrest, has said he led her to believe his marriage was dead, only to end their affair after he retired from the FBI in 2018. In the aftermath, Pamela McGonigal, citing harassment, obtained a restraining order against Guerriero, who has acknowledged overstepping during periods of alcohol abuse.
Guerriero has said that, in her anger, she drunkenly sent an email to the head of the FBI's New York office suggesting he investigate Charles McGonigal, which has led some to suspect that his marital indiscretion was what ultimately led to the federal inquiry that resulted in his arrest.
During their 18-month relationship, Guerriero said, she and McGonigal sometimes stayed at a Brooklyn apartment and enjoyed the swirl of the city. He loved Sparks Steak House and other upscale restaurants and was fastidious about his appearance.
"Suits, shoes, expensive ties," Guerriero said. "If he went out, he would have to be dressed to the nines."
Over dinner in Manhattan one evening in 2017, McGonigal was introduced to a man who would figure heavily into his undoing: Agron Neza, an Albanian-born businessman living in Leonia, New Jersey, who is labeled "Person A" in the Washington indictment. As a young man, Neza had worked for the Albanian State Intelligence Service before moving to the United States. Now, balding and bearded, Neza was brokering deals overseas.
In August 2017, according to prosecutors, McGonigal proposed the men make their own deal, in which Neza would lend him $225,000 in cash.
Prosecutors have not said why McGonigal needed that money or what he may have agreed to do in return. But over the next several months, they said, he injected himself into foreign political and business affairs, apparently while trading on his FBI position, in dealings that would culminate in his arrest.
He befriended the prime minister of Albania, Edi Rama, and used his position to drum up foreign business for his associates, according to the indictment filed against him in Washington.
On one occasion, McGonigal opened an FBI investigation into a lobbyist for the Albanian prime minister's main political rival, the prosecutors said. On another, prosecutors said, he helped secure an oil drilling license benefiting Neza and others.
Along the way, there was some indication that the FBI was aware of his dealings with the Albanians. According to two people who spoke with him, McGonigal said the FBI had authorized him to approach US contractors about working with Rama to help reform the Albanian government, which had long been plagued by corruption and inefficiency.
Perhaps none of McGonigal's associations was as alarming as the one prosecutors said he had with the Russian oligarch, Deripaska. A billionaire metals magnate seen as shrewd and ruthless, Deripaska built his fortune after the fall of the Soviet Union, as state resources were taken over by businesspeople with close ties to the Kremlin. He also cultivated ties to the West, hosting parties in Europe, courting politicians and hiring lawyers and lobbyists to look after his interests.
He did business with Paul Manafort, a lobbyist and political adviser who later served as chair of Trump's 2016 campaign. FBI agents attempted to recruit Deripaska as an informant, in part to find out whether Manafort had been a link to the Kremlin, which Deripaska denied.
In April 2018, the Treasury Department added Deripaska to its sanctions list, citing his ties to the Kremlin and accusations that he laundered money and threatened rivals, among other things. Before the sanctions were made public, McGonigal reviewed a list with Deripaska's name on it, the New York indictment said.
By late 2018, prosecutors suggested, he was laying the groundwork for a future business relationship with Deripaska.
McGonigal is accused of setting up an internship at the New York Police Department for the daughter of an unnamed aide to the oligarch — a reference to Russian businessman Evgeny Fokin, according to people familiar with the case. (A senior police official said that the woman received a multiday "VIP-type" tour of specialized units, not an internship.) McGonigal had been introduced to Fokin by a former Russian diplomat who had become an interpreter for US courts, prosecutors said.
After retiring from the bureau in late 2018, and taking a job as vice president for security at the real estate firm Brookfield Properties, McGonigal began working for Deripaska, prosecutors said. He and the former diplomat connected the oligarch with an American law firm, Kobre & Kim, in 2019 to aid in getting the sanctions lifted.
They referred to Deripaska as "the individual" or "the Vienna client" in electronic communications, and McGonigal met with Deripaska and others in London and in Vienna, prosecutors said.
McGonigal was paid $25,000 per month by the law firm for the sanctions-related work, using Deripaska's money, prosecutors said.
In August 2021, Fokin retained McGonigal and the former Russian diplomat for a new brief: investigating a rival oligarch with whom Deripaska was involved in a business dispute. The two men were paid $218,000, until FBI agents seized their devices that November, prosecutors said.
Last year, federal prosecutors in New York charged Deripaska and others with scheming to evade sanctions by engaging in real estate deals.
In January, FBI agents met McGonigal at Kennedy Airport and arrested him as he returned from an unrelated business trip to Sri Lanka. He had lost his job at the real estate firm, but in the following months, the wholesome Midwesterner became a celebrity in Albania, where Rama's opponents and the media took to short-handing the scandal in a particular way.
They called it "the McGonigal affair."
The News And Times Information Network – Blogs By Michael Novakhov – thenewsandtimes.blogspot.com